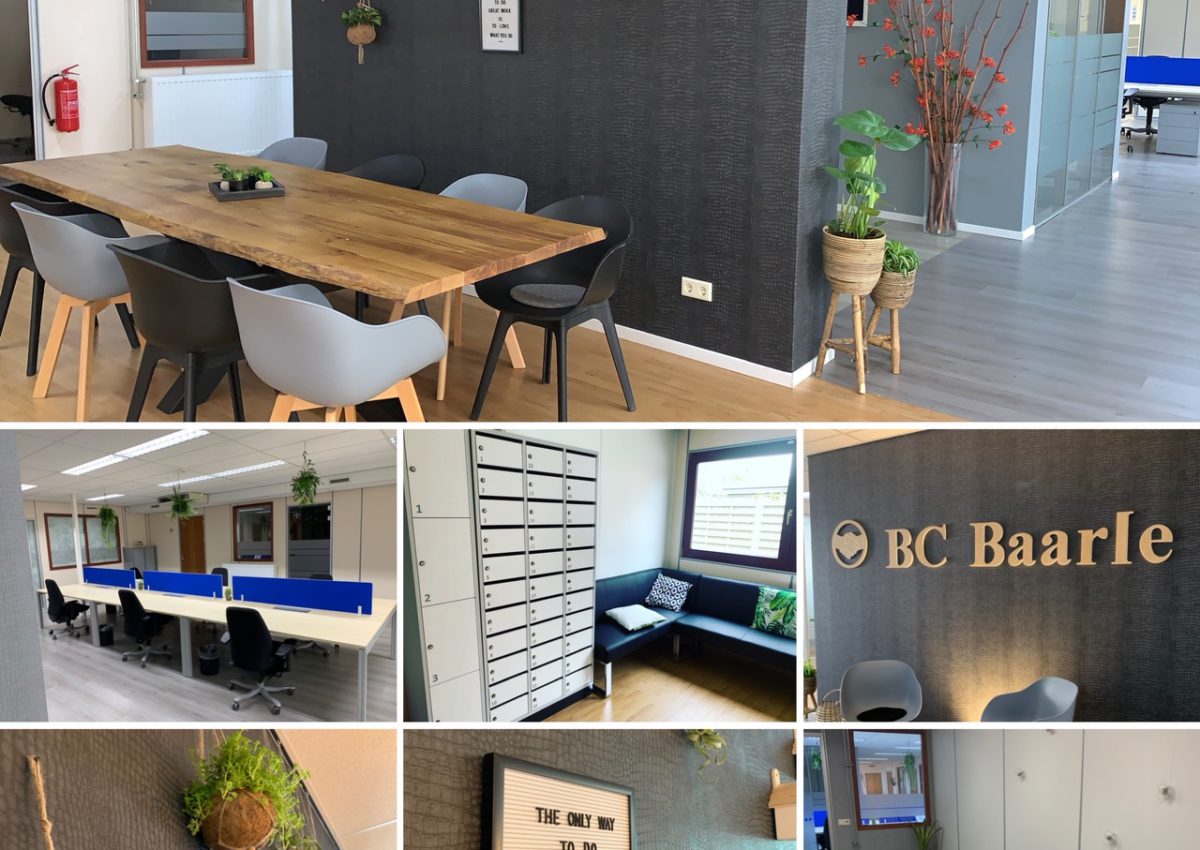 Beschrijving locatie
BC Baarle ligt midden in 1 van de vele enclaves die Baarle zo speciaal maken. Het idyllische Baarle bestaat uit de Nederlandse gemeente Baarle Nassau en de Belgische gemeente Baarle Hertog en ligt midden in de denkbeeldige driehoek tussen de Nederlandse steden Breda, Tilburg en De Belgische stad Turnhout. BC Baarle ligt midden in het cultureel erfgoed uit WO I, de beruchte "Dodendraad" die het neutrale Nederland van het bezette België afsloot, de bezette Belgische enclaves zorgden ervoor dat Baarle een centrum werd van smokkelen.
Uitwisselen van ideeën, gegevens en informatie is voor ons coworking. Deze keer niet meer in klompen maar in onze sfeervolle gemeenschappelijke ruimte of aan 1 van onze gezellige flexplaatsen. Ons strakke kantoor met groene vingers en ruime werkplaatsen zorgt ervoor dat mensen kunnen samenwerken maar ook in de mogelijkheid zijn om een kantoorruimte te huren voor de dagen dat zij graag afgezonderd wensen te werken. Wij beschikken ook over een vergaderruimte voor meeting of opleidingen.
Kom eens langs om de sfeer in ons tweelingsdorp op te snuiven! Wij zijn uiterst geschikt voor grensarbeiders die niet dagelijks op het hoofdkantoor moeten werken en door te werken bij BC Baarle veel fileleed bespaard blijven.
Coworking
Abonnement flexplek excl. btw
30 euro per dag
250 euro /maand – volledige dagen
125 euro/maand – halve dagen
Openingsuren
Maandag: 9u00 – 17u00
Dinsdag: 9u00 – 17u00
Woensdag: 9u00 – 17u00
Donderdag: 9u00 – 17u00
Vrijdag: 9u00 – 17u00
Mits aanschaffen van badge kan men ook andere tijden binnen, deze worden vooraf afgesproken zodat toegang verleend kan worden.

Contactgegevens
Molenstraat 8
5111 CE Baarle Nassau (NL)
Contactgegevens Bar d'Office
Fort V | Binnenfort
Vestinglaan 55 | 2650 Edegem
T: 03 303 90 73
E: info@bardoffice.eu